In this day and age, celebrities are playing an ever growing role in modern culture, including consumption patterns, serving as arbiters of taste, style and public opinion the world over. Their endorsement and creative input enables them to bring attention, credibility and other intangible benefits to a brand in a way that no other type of advertising can.
In India, it is not just marketers and already established brands that are exploiting celebrity power to create an emotional bond with the consumer and thus increase sales, but celebrities are also impacting on buying behaviour.
Read: 13 Celebrities Who Are Invested in Retail
Companies exploit the power of celebrities and employ them to advertise just about everything. As famous people are instantly recognisable and attract consumer interest, they can bring attention to a brand in a way that no other type of advertising can. As long as the celebrity is authentic, he or she can help to lend credibility to a brand and influence the way it is perceived. Many consumers believe that if a product is good enough for a star, it is good enough for them.
While most apparent among the younger generation, celebrity influence exists across all age groups. Tweens and teens idolise the icons of the moment (e.g. Justin Bieber, Taylor Swift or One Direction), whereas adults tend to admire older, more enduring celebrities.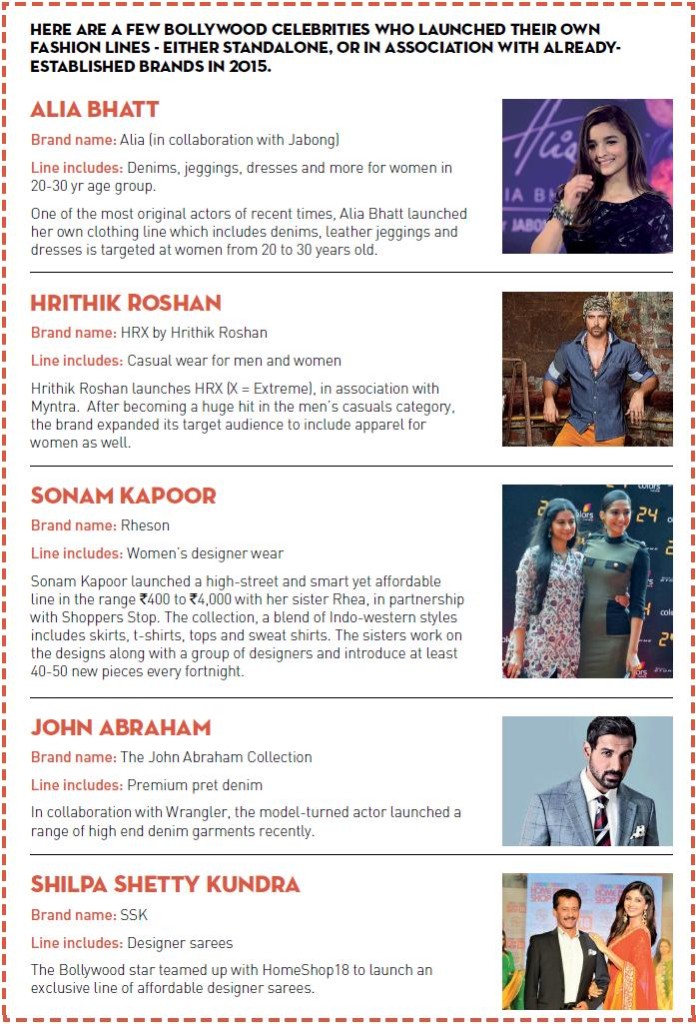 Celebrity power has also taken off in a big way in India, and companies are clamouring to secure contracts with the big Bollywood actors, such as Katrina Kaif, Shahrukh Khan and Kareena Kapoor. Bollywood, apart from colouring the dreams of Indians have also addressed the fashion sense of generations. In an age when the industry is on an international stage, many celebrities are expanding their portfolio of acting and producing films to launching their own line of clothing and accessories.
Last year several high street brands reached out to Bollywood celebs to work on collections. Kangana Ranaut worked on Vero Moda's Marquee collection, Alia Bhatt collaborated with Jabong, Sonam and Rhea Kapoor worked on an affordable ready-to-wear line, Rheson, for Shoppers Stop.
Read: Endorsement by Celebrities Promise Success for a Brand
The question that begs a debate is — are these celebs merely fronting these campaigns? Are the brands only cashing in on their celebrity persona? If not, then how much is the creative input from celebs when they work on collections?
Fashion expert Sabina Chopra says, "We live in a Bollywood obsessed country where almost every brand across most industries picks Bollywood stars to endorse their brands. They believe this gets them instant recognition and recall so why should fashion retail think any differently."
Fashion columnist Nonita Kalra says, "It is unfair to think that a celebrity would lend their name to a fashion collection without any input. Look at the actors in question: Sonam Kapoor, Kangana Ranaut — both very stylish girls who know their fashion. Regardless of how lucrative the deal, I am sure they get involved, given that their names are attached to the brand. Do they do the actual designing? Of course not. But I am sure they have a
strong yay or nay when it comes to the looks that are included. Clearly, retailers are aware of this, which is why they select current fashion icons to partner with. While, we do live in the cult of the celebrity, the consumer is not stupid — and follows a star for what their worth is and not just because they make movies."
Read: Govt to ban celebrities from endorsing misleading ads
CEO at Silver Monkey Communications, Mohnish Malhotra, who handles Satya Paul, says that this change from celebrity endorsements to involvement is a growing trend that resonates especially well with customers 'who respond to Bollywood and cricket'. With celebs preferring to shift from posing in front of the lens to tackling the drawing board, consumers take the concept they promote more seriously.
Malhotra helped bring on board Lisa Ray for a 10-piece limited edition series, Ray of Hope, that reflected Ray's own style and her personal highs and lows after she was blown away by the Satya Paul saree she wore at her wedding. "It was a perfect way to
share my message of triumph with others — design a line of clothing that featured a blend of East and West, and finding light and love after a dark period," says the cancer survivor who auctioned off her wedding sari for charity.
Designer Masaba Gupta says, "Any brand approaches a celeb because their personal style is a rage. Sonam is an icon and Kangana is also very well dressed. Because, for people who can't buy Dior, Vero Moda and Shoppers Stop are affordable options. When celeb names are attached, people are more confident about buying things."
The collaboration with Van Heusen may have been Deepika Padukone's idea, but the fashion icon is candid enough to admit, "I'm hardly a designer. I am someone who has ideas but is not very good at executing them. I need people to help me put it all together."
And that is what is the right attitude. "Stars take on such projects to satisfy a creative or business urge. For example, Oprah Winfrey and Ryan Seacrest's media networks, the Olsen twins' clothing line, Elle Macpherson's lingerie line or Jennifer Lawrence and her business. In India, Being Human and HRX have made waves," says Masaba Gupta, but stresses that the key is to be passionate and not just do it as a marketing gimmick.
Deepika Padukone also tied up with online fashion and lifestyle store Myntra to launch her own brand 'All About You' in October 2015. Priced `1,500 onwards, the entire assortment of apparel is available exclusively on Myntra. It took Myntra and Deepika 9 months of collaboration with French design agency Carlin besides Myntra's own in-house team, to launch this collection, with the actress adding her personal touch at every stage. Deepika says the 'All About You' collection encourages girls to 'just be themselves'. She adds, "These clothes are the extension of my personality, a multi-tasking woman who is in the age group of 18-35."
Preeta Sukhtankar, the lady behind the unique e-commerce company, The Label Corp., wanted to fill the gaps in the e-commerce and retail space by making celebrities an internal and integral part of the brand, not just endorsing it from the outside.
She zeroed in on Malaika Arora-Khan for The Closet Label, Suzanne Khan for The Home Label and Bipasha Basu for The Trunk Label.
"All of them were specially chosen for their expertise and passion in bringing consumers and celebrities together to share a personal experience, not just dump them with shopping choices," explains Sukhtankar, describing the three handpicked Bollywood divas as 'taste makers' and 'personal guides', akin to the sought after 'popular girl in school'.
"We wanted someone who is inspiring because of their work rather than their lineage. Someone relatable and credible," she says, emphasising that the stars' lifestyle is also a draw and not just their professional face.
Malaika agrees. "As an industry veteran, I recognise the gap between high end apparel and everyday wear. I also rue the fact that women mostly tend to dress well for an occasion when you should also look your best at work; or every single day. I've always wanted to be a part of this project since I hosted MTV Style Check. As creative director of The Closet Label, the brand is an extension of myself. I want to reach out to all twenty-something women and cater to their individuality, keeping quality and affectability in mind."