Bangalore-based startup ShopX, has emerged quietly, expanding into the digital 'offline' space, in direct competition with India's e-commerce giants. The company partners with small store owners to provide their customers access to products via e-commerce.
"In a country like India, there is a lot of hype around e-commerce, but if you look at ground realities, it's more elitist-commerce and not everyone's-commerce anymore. Only about 30-40 million Indians opt for online shopping – a drop in the ocean as far as the Indian economy and population is concerned. We wanted to take Indian e-commerce to the next level," says ShopX Founder, Amit Sharma.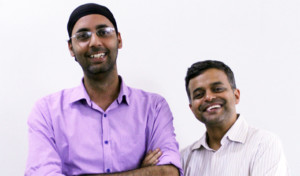 For Sharma, and Co-founder Apoorva Jois, the idea was not to copy paste something from robust retail economies, but to invent something specifically for India – something that could be used by emerging economies. They came up with ShopX – a platform aimed at transforming the shopping experience for millions of Indian consumers living beyond metropolitan India.
Empowering Mom-and-Pop Stores
ShopX connects mom-and-pop stores, and kirana shops and kiosks to major brands.
The company worked on the idea that small kirana stores are not liabilities for India and they don't need to be displaced to make way for larger stores. "We wanted to enable them, empower them with technology instead of disrupting them," says Sharma.
Shopkeepers can browse through a digital catalogue – provided by ShopX – of major brands including HUL, Puma, L'oreal, Patanjali, Micromax, Samsung, Apple, Lava, and Karbonn to name a few, and order any product directly from the sellers.
For logistics, the company uses unorganized transport companies to reach remote areas, saving costs. For last mile delivery, they work with local distribution partners, cutting down the need of delivery boys and vehicles.
ShopX claims that its transportation costs are one-tenth of Amazon. For warehousing, ShopX has tied up with Fedex and BlueDart.
I have been closely involved as investor and mentor and in shaping the strategy. It plays to many of the themes I believe in – aggregation of small businesses into a network, on-boarding ramp into formal economy, credit as the killer app for formalization, scalable and sustainable business model, platform thinking, built for speed, capital efficient, designed for India's unique conditions etc. I am really excited about our journey at ShopX and will continue to extend my support to Amit Sharma and his team as they play a pivotal role in organizing the unorganized retail ecosystem in India ~ Nandan Nilekani, Co-Founder, Infosys
Understanding the Market
For ShopX, the first year was all about understanding and building upon the market in India. In the last one year, however, it has grown into nine states, covering the entire south and west regions.

"We are in 230 towns, which is a very wide reach, and we will take it to 1,000 towns in the next two to three years' time. We have a base of 50,000 retailers and have served over 5 million consumers through these retailers," says Sharma.
The target, he adds, is to get 10 lakh retailers on board in three to five years, as ShopX becomes a pan-India operator. "By this time, we believe that the size of this industry will be larger than the e-commerce industry put together in India," he states.
The platform plays a two-pronged role – improving the retailer's relationship with the consumer and increasing the retailer's income by nearly 40 per cent (as per ShopX figures).
However, Sharma is quick to add that ShopX is not a deep discounting model. "The prices ShopX offers are what you would find in traditional offline stores. A lot of products cater to the middle class, but you will be surprised that they have a lot of appetite, and a lot of demand for upmarket brands and authorized dealers. One of our top selling brands is Apple."
He says that his platform provides to Tier II and beyond what they don't have access to – brands, and big names.
Funding
The startup has managed to raise US $10 million from investors and roped in big names including Infosys co-founder, Nandan Nilekani and TRRAIN's BS Nagesh.

"There is an unprecedented opportunity in Indian consumption space using an India-centric 'digital offline' strategy. The ShopX model provides the traditional, smaller retailers with the same level of technology and logistics as any established e-commerce or organized retailer. This expands the addressable market of eCommerce ten-folds from the current 40 million people to the next 400 million," says Infosys Co-Founder, Nanadan Nilekani.
How They Earn
ShopX pre-selects retailers by charging a non-refundable fee of Rs 1,000 per retailer to use the application. The company also has a strong relationship with brands where profit margins are higher.
In addition to this, companies also approach ShopX for helping their market and building their brand. "We extend various services to brands, for example we pick up advertising inside stores on behalf of a brand. We look at promoting their latest products," says Sharma.
The brand is now building a model to help the retail community in GST compliance.
"Whenever digital changes happen in the economy, retailers approach us on how we can help them out. Now we are building a model to help the retailers in GST compliance," Sharma says.
READ MORE: ShopX Achieves Rs 2.7 crore GMV in a single day
(With inputs from Charu Lamba)