Bombay Perfumery, a contemporary fragrance house founded by Manan Gandhi, is focused on using only the finest, handpicked ingredients to create fragrances that are distinct and confident, much like the city that has inspired it.
The perfumes are conceptualised by Gandhi, in collaboration with renowned international noses such as Jacques Chabert (Guerlain, Chanel and Loewe); and Alexandra Carlin (Amouage, Givenchy). In addition, perfumers Pierre Kurzunne and Tristan Rostain have also created special fragrances for the brand.
Bombay Perfumery was set up initially as a web store – www.bombayperfumery.com in 2015 and started expanding its brick-and-mortar stores just two-three months ago with a retail presence in concept stores across various locations which cater to a niche audience and understand the brand aesthetic.
Currently, the brand is present at Vayu in Delhi, Ogaan in Hyderabad, Pepper House in Kochi, Fervour in Bangalore, Chamiers in Chennai and Le Mill in Mumbai.
In an exclusive interview with Indiaretailing Bureau, Manan Gandhi said, "Bombay Perfumery was an idea that was formed in Grasse, France back in 2015 when I was working on my business of supplying ingredients to perfumery houses across Europe. I felt then that it was time that India should have its own niche perfumery label which is at par with any international brand and also believed that I had enough insight into the workings of this business to bring this idea to fruition."
He further added, "I decided to return to India to set up my own perfume label which would put a spotlight on beautiful naturals sourced from interesting places across the world and of course, from India. Thanks to the exposure that I had gained working in Grasse, I was able to get on board some of the finest perfumers from France to work on the olfactory directions for Bombay Perfumery. I wanted to stay away from the stereotypical imagery and ingredients that is usually associated with most things Indian and so my brief to the perfumers was to hero the Indian ingredients but in a manner is contemporary and cutting edge. What you see therefore, is a fruit of labour that's been in the making for over two years, a take on fragrances that are India inspired yet contemporary."
Exploring Products
Known for experimenting with progressive scents with an Indian twist, Bombay Perfumery is an attempt to redefine the traditional ittar/oodh in India for its patrons. The brand has launched eight fragrances – three for men, three for women and two are unisex. Each one is either named after the ingredients or a memory or the place from which the brand source them.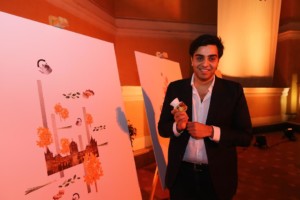 "Moire, Sulawesi, Chai Musk by Alexandra Carlin; 1020 by Pierre Kurzunne; Seven Islands, Calicut, Les Cayes by Jacques Chabert; Madurai Talkies by Tristan Rostain are the eight fragrances that we have introduced," said Gandhi.
The products are priced between the range of Rs 3,900 – Rs 4,100 for a 100 ml bottle aiming the customers based in the metros. The brand has also launched sample kits on its webstore at a pocket friendly cost of Rs 500 so that the customers can first test the fragrances and make an informed purchase decision.
"Given that some of the highest spenders in the luxury segment are largely based in urban cities, these are the strategic markets that we would like to cater to," revealed Gandhi.
Marketing Strategy
Unlike other perfume brands which aim to be present at all the retail points from malls to duty free shops and have marketing strategy based on glamour, hiring expensive brand ambassadors and over the top marketing promotions, Bombay Perfumery has altogether a different marketing strategy.
According to Gandhi, "We are very focused on talking about what goes into the fragrances rather than what is on the outside and we are also very particular about the kind of retail spaces we associate our brand with. Bombay Perfumery has a beautiful story to tell about the ingredients and their provenance and we have come up with scents that pride themselves on using a combination of naturals in interesting olfactory combinations and that will always remain our forte."
"We've got a perfume inspired by black pepper and one which uses the Indian tuberose with leather. There's one with patchouli and custard apple. It's not very common to find these combinations, especially in the Indian market and I'm happy that we've got a product that is so different from what any of the international players have to offer," he further added.
Expansion Plans
Bombay Perfumery is planning to expand its retail presence to other Indian cities as well. Currently, Pondicherry, Goa, Kolkata and Jaipur are some of the markets which are on the radar.
"We've already begun establishing our presence with like minded retail partners across different cities, primarily in metros which are the strategic markets for us. We plan to continue expanding to other markets as well which are yet untapped and have an eclectic customer base," said Gandhi.
Contemporary boutique fragrance house is also planning to raise funds to aid its expansion plans.