Here's a list of a few fashion retailers in India who have had a humble start from either a small store or just a Shop-In-Shop at a particular region but today, with their continuous efforts to understand and decode the ever-changing consumer's need and behaviour, have carved out a niche for themselves in the fashion retail industry.
In an age where brick-and-mortar retailers are wrestling with the issues of creating lasting value and relevance, these retailers are aiming for a pan India presence, by offering best of both the worlds – online and offline – to their customers.
These retailers were interviewed by IMAGES Group. Here's a sneak peak into their journey…
Sohum Shoppe

Founded in 2000, Guwahati-based Sohum Shoppe's success tale is one of grit, determination and far-reaching vision. Recognised as a retail giant in East India, the chain currently owns 1,29,000 sq.ft. of retail space in the form of five stores.
Market presence
In the year 2005, Founder and Managing Director, Sohum Shoppe Ltd, Manohar Lal Jalan, decided to consolidate his gains and initiate expansion. By then, his older son Sandeep had joined the business.
"Our first store was situated at fourth floor of multi-storey commercial complex. But for our second outlet— which is also our flagship—we didn't compromise on location at all. The 28,000 sq.ft. Sohum Shoppe, the family mega store, rolled out in 2005 is located in Christian Basti on G S Road, the most posh and commercial locality of Guwahati," said Jalan.
Soon, his younger son Siddharth and daughter Swastika also teamed up with them and what followed was the launch of three more outlets, one each in Dibrugarh, Jorhat and Guwahati again bringing their store count to present five.
Today, Sohum is recognised as a retail giant in East India and its total retail space has reached 1,29,000 sq.ft. mark. In FY 2014-15, the yearly turnover of the company was of 1,571 lakh with average monthly per sq.ft. sales of `101.48 and same store growth of 10 per cent.
The Future
In the coming future, Sohum aspires to become a benchmark for other retailers. Jalan apprises, "We would like to extend our presence beyond our home market Assam as and when the right opportunity arises."

Jadeblue lifestyle India Ltd

Jadeblue lifestyle India Ltd. is a prominent name in the men's fashion retail business. Established in 1981, it has innovated its positioning in the market from time to time and is today one of Gujrat's prominent enterprises.
JadeBlue is led by Jitendra Chauhan (CMD), Bipin Chauhan (MD) and Siddhesh Chauhan (Executive Director & Design Head). While they handle the administrative policies and design, Khushali Chauhan looks after the digital side of the company
Market presence
JadeBlue has its company owned stores at Ahemdabad at CG Road, Maninagar, S G Highway, Alkapuri (Baroda), Rajkot, Surat, Vapi, Indore, Raipur, Udaipur, Ghandhidham, Hyderabad, Hyderabad 2, Pune and Jaipur. It has its franchise stores at Anand, Jamnagar and Bharuch.
The company's total annual turnover for the fiscal year 2014-15 accounted to Rs 19.11 crore with a sale of Rs 1122. 84 per sq.ft. every month. Its franchisee business done with three stores with an area of 7,750 sq.ft. contributed to a turnover of Rs 682.34 with a same store sales growth rate of 8.62 per cent.
Its private brands business is retailed through 33 retail stores and contributes to Rs 14.97 crore of business.
The Future
In five years down the line, the company plans to grow triple in its standing today. JadeBlue is looking for a pan India expansion of its multibrand outlets along with JadeBlue exclusive brand outlets for its private label brands Greenfibre and JB Studio.

Ritu Wears Big life

Established in 1965, Ritu Wears Big life, prides itself in being a one stop fashion destination for entire family. The Noida-based chain currently operates 11 stores with a major presence in Delhi/NCR.
The concept is a brain child of an enterprising lady Janak Dulari Sahni who laid the foundations of the family business in 1965 by opening a single 200 sq.ft. store. Later in 1983, her son Sanjay also joined the company and since then he is devoted to the growth of RWBL.
Market presence
RWBL has 11 stores spanning a retail space of 2,01,605 sq.ft. The stores are spread across Delhi and NCR (Lajpat Nagar (2), Rohini, Faridabad, Noida and Ghaziabad (2), Punjab (Jalandhar), Madhya Pradesh (Indore), Uttar Pradesh (Moradabad) and Uttarakhand (Haridwar).
The Future
With brand legacy of over four decades, Ritu Wears is well-positioned to adapt to the rapidly evolving retail scenario. Sanjay shares, "We are looking to enhance our product as well as brand portfolio across categories. We are also planning new tie-ups based on SOR business models to streamline cashflow and extend more
offerings to our customers."
Neeru's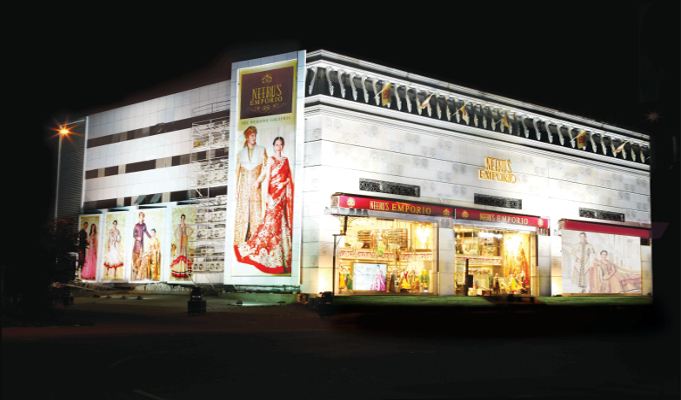 From a humble beginning of supplying raw material to fashion retailers to being reckoned as a fashion brand that is today synonymous with ethnic fashion, Neeru's had indeed come a long way. The brand kindles fashion with its active participation in fashion weeks and close engagement with celebrity fashion influencers.
The journey of Harish Kumar along with Mother Basant Kaur, the founder of Neeru's, began in 1971 with tailoring and embroidery of superior and intricate designs in Hyderabad. In 1983, Harish started manufacturing and wholesale supplying of fabric to over 1,000 retailers across India.
Spotting a potential for handloom, he was quick to introduce handloom and other natural fabrics. This not only came as a fresh boon to the fabric market, which was till then saturated with man-made fibers and fabric, but this also gave a respite to weavers from south India helping them generate due economic benefits from their skills of weaving natural fibers.
It would be no exaggeration to say that Harish worked towards making handloom look fashionable and trendy thus giving it a facelift from its earlier avatar of being considered a choice for people who could not afford expensive fabric. The turning point came in 1991 when Harish realised that there was dearth for a good ethnic wear brand in the country, specially so when ethnic wear had a strong underlying demand. This is when Neeru's journey started as a brand.
Market presence
Today, with 48 EBO and MBO stores (including the one in Dubai), Neeru's is redefining designer ethnic wear in India, making it available to patrons who are connoisseurs of fine design but generally shy away due to the pricey designer tags. Accentuating this is the brand's USP which states, 'selling the latest and the best of Indian ethnic wear at a reasonable price tag'. The locations of Neeru's exclusive stores are as follows – Hyderabad (11), Vijayawada (2), Bengaluru (3 +1 franchise store]) and one each at Vizag, Guntur, Nizamabad and Dubai.
New stores are coming up in Kurnool, Hubli, Tirupati, Gulbarga, Hyderabad, Bengaluru and Goa. Besides the parent brand Neeru's, Harish has also launched other formats which include Neeru's Emporio, The Wedding Galleria and Neeru's Elite.
The product line includes lehengas, sarees, silks, suits, mix-and-match, accessories, men's ethnic and kids' wear. Women's wear include lehengas, ghagras, silks, sarees, half sarees, blouses, tunics, and mix and match in both ready-to-wear, and unstitched formats. Men's wear include kurta pyjamas, Indo western wear, sherwanis, suits, shirts and trousers.
Neeru's Emporio in Hyderabad is a visual treat with a sprawling 30,000 sq.ft. area dedicated for men's, women's, and kids' ethnic wear. It is a one-stop destination for wedding shopping and the design aesthetics of the store are at par with international luxury stores.
Neeru's is also going strong on a sub-brand expansion, with the most prominent being Neeru's Mix & Match—an exclusive collection of tunics, kurtis and bottoms. This is led by the Signature Neeru Kumar collection. Then there is Neeru's Menz which is an exclusive collection for men. The other collections include Little Neeru's which is dedicated to children up to 14 years of age and Yuva which includes fashion jewellery, clutches, bags and footwear. Neeru Kumar forayed into the word of prêt line collection with the launch of the Signature Neeru Kumar Collection.
Today, apart from its own outlets, Neeru's is looking forward to expansion through franchise and dealership route. According to Harish, the franchise terms of Neeru's require a space of about 1,500-4,500 sq.ft. The requirement for its sub-brands is 500-1,000 sq.ft. with an investment of about Rs 4 lakh.
The Future
With an aim to spread the reach of the brand across the country, Harish, Neeru and Avnish Kumar envisages opening EBOs of the brand in the metro cities and is also looking forward to have its presence in tier -II and -III cities.
The new EBOs are planned in Hyderabad, Bengaluru, Chennai, Tirupati, Hubli, Kurnool, Gulbarga and Goa along with all major tier -II and -III cities in India. The company has recently opened its flagship store in DLF Mall of India (Noida) , which is a complete family store, one store in Vijaywada and a franchise store in Guntur.
Kapsons

Known as the fashion power house of North India, the Kapsons Group has been around since 1989. Having created a stronghold as a leading distributor and retailer in the region, it now aspires to become a national player.
Kapsons is co-founded by brothers Vipin and Darpan Kapoor. The group is credited for bringing in nearly 200 national and global lifestyle brands to North India.
Market presence
With total retail area of 3,53,140 sq. ft., the group as of now operates 176 stores (own and franchised) in 41 cities, of which 39 are MBOs and the rest 137 are EBOs. Beginning from Kapsons family store, an MBO for men, women and kids, the company has launched other MBO formats that include Kapkids (kids centric store), and Krome (targeted at tier-II and tier-III towns). Kapsons' current retail network mainly extends over Panjab, Haryana, Himachal Pradesh and J&K. In FY 2014-15, its retail turnover reached Rs 452 crore. Gradually, it is making inroads into other parts of the country too.
The Future
Acknowledging the growing influence of e-commerce, Kapsons too has come up with its own online store which is a mirror replica of its physical stores. Same season, same brands are offered simultaneously in both models. "However, the brick and mortar model shall remain our focus area," Vice Chairman Kapson, Darpan Kapoor says.
Elucidating Kapsons' expansion plans, he says, "We're looking forward to expanding our legacy at national level. Apart from company owned stores, we plan to extend our retail presence mainly via franchising."
Mebaz

Starting within the men's ethnic wear retail segment in 1972, Mebaz slowly expanded its portfolio to include women's wears as well as kidswear. Located in Hyderabad, Mebaz created a modern ethnic brand which now boasts pan India presence.
In 2004, Manoj Jethwani launced Mebaz. The brand slowly multiplied to 15 stores by 2014 with 900 employees, including 6 franchised stores.
Market presence
Mebaz is currently located in six cities namely Hyderabad, Vizag, Vijaywada, Khammam, Ahmedabad and Delhi. The brand functions on a large space formats, which is roughly around 8,000-10,000 sq.ft. area. Mebaz will soon be also launching its online shopping portal.
The Future
Apart from starting an online store, Jethwani is also contemplating on expanding the company-owned franchise-operated model. Here, a franchisee would have to invest roughly around Rs 2.5 to Rs 3 crore on a retail store, which includes store interiors and design, where they will be able to expect a return on investment within the next three years. Jethwani is currently focusing on his vision to expand Mebaz to another 10 cities in India, within the next 12-15 months. The immediate thrust is on Bangalore, Chennai and the top North Indian cities.
V-Mart

V-Mart retail ltd, the value retailer chain which operates through a cluster based model, primarily operates in tier-II and III locations spread across 122 stores in 105 cities and 14 states and UTs. The chain is aiming to expand its store network up to 200 in non-metro cities in the next four years.
V-Mart, as of date, is limited to the northern and western regions of the country, but Lalit Agarwal, CMD, V-Mart Retail indicates his pan India ambitions. Looking at establishing its strong base in east India, with Odisha and West Bengal being the first territorial targets, he also has been vying for a transition to the e-commerce landscape.
The Future
V-Mart is planning to implement new strategies to bring about a technological reformation in its set-up. The company is trying to put technological information in good use, the reason why going online through their web-based platform will be a viable option. They have an offline-to online strategy, where offl ine would feed
the online demand. The company needs at least a year to start online retail and it will be around next Diwali. Nothing is on the paper as of yet as far as monetary investments are concerned.
"Customers who we are trying to target are rural or district dwelling population. Over the past few years, they have transitioned into tech-savvy and mobile-app friendly customers. They have grown to become more accessible and approachable with 3G and 4G connections, activated on the devices they operate. The future and present of a business are its customers and digitalisation across the company. The thought process of the company is to increase the productivity," opines Agarwal.
The company has recorded compounded year on year growth as 35 percent, as against 41 percent recorded last year. Talking about the competition, Agarwal says, "Our stores cater to the needs of the entire family by offering apparels, general merchandise and kirana goods, and soon we will be developing a multi-brand model in the company. We primarily operate in tier-II and -III cities with the chain of 'Value Retail' department stores, and at present, we do not see much of a competition. However, discounting the competition in the long run would not be appropriate to say. Of course, there will be a multi-level competition in different cities with presence of brands catering to consumers."

Chunmun

A brainchild of late Mrs Satish Suri, Chunmun (CnM) started its journey in the early 1980s as a small garment shop in Lajpat Nagar, a suburb in South Delhi. Today, under the mantle of her son Sharad Suri and grandsons Sagar and Surya Suri, the business has blossomed into a chain of multi brand stores with signifi cant
presence in Delhi/NCR region.
Chunmum, a one stop destination for family shopping, brings together happening brands and exceptional range of merchandiser for all ages. From a humble shop to present day chain of multi brand stores, its journey has been rather incredible.
Market presence
With recently opened store in Amritsar. CnM as of now operates a total of 10 stores spanning 2,73,000 sq. ft. of retail space. Its outlets are located in posh areas including Lajpat Nagar(two stores), Greater Kailash, Pitampura, Rajouri Garden (City Square Mall), Kaushambi (Pacifi c Mall) in Delhi; Parsvnath City Mall in Faridabad; Opulent Mall in Ghaziabad; Model Town in Jalandha and at Lawrence Road in Amritsar. During FY 2014-15, the total yearly turnover of the company was of `300 crore with average monthly per sq. ft. sales of Rs 1,065.
The Future
Celebrating its coming of age, CnM is nurturing national ambitions now! Sagar and Surya reveal, " We plan to open two more stores in Noida and Ludhiana as these locations are on our expansion radar. We are not in great haste and want to grow steady and surely. We aspire to become a pan India player in the coming future."

Study by Janak

Study by Janak, maker and retailer of premium formal and occasion wear, was incepted in the year 1986. In its long and remarkable journey until now, the company has creatyed a niche for itself among the style-savvy elites of North India.
The brand came into being almost three decades ago, when its founder Manoj Mehra, who is also the CMD of the company, observed that there were not many options available in the men's wear in India at that time. Guided by his passion and ambition for fashion, he founded SBJ. With the current strength of six stores, the brand has now decided to grow its legacy nationally via franchising.
Market presence
SBJ has been growing organically since its inception in 1986. At present, it has six stores strategically located in Delhi NCR (South Extension, Karol Bagh, Gurgaon, Noida), and in Punjab (Jalandhar, Ludhiana), spanning a total retail space of 40,000 sq.ft. The brand follows the exclusive brand outlet (EBO) format to ensure strict quality control and standard operating procedures across the stores.
According to Director, SBJ, Ayush Mehra, "Apart from locals, we also cater to clientele from aboard. An EBO model helps us to provide the same experience to our clients across all locations."
The Future
With plans to tap into the growing scope of e-commerce, SBJ plans to launch its webstore, besides increasing presence on other online shopping websites. Ayush shares, "Enhanced online presence will increase our customer reach. We are looking to generate 5-10 percent of our top-line sales from online in the coming future." As regards physical expansion plans, he shares that the brand mulls to add about 60,000 sq.ft. to its current total retail area. For this, for the next three years, five stores would be opened each year. Also, there are plans to roll out smaller retail formats (2,500-5,000 sq.ft. carpetarea)

 V2
V2 retail limited is one of the fastest growing retail companies in India. The company's portfolio of products apparels, household merchandise and other consumer goods that are high on quality and feature at competitive prices.
As of now, the chain has 26 operational stores across the country. In the last two months, V2 retail has opened five new stores in Siwan, Jaunpur, Haldwani, Begusarai and Bihar Sharif.
The Future
The company will invest between Rs 35- 40 crore to add 20 new stores in tier-II and tier-III places of Bihar, Jharkhand, Uttar Pradesh and Uttarakhand.
As per its growth strategy, the company would continue to focus on east, northeastern
states besides Uttar Pradesh and Uttarakhand.
Besides this, the company is also expanding its inhouse brands and labels to cater the market. V2 Retail has private labels including Herrlich, Godspeed, Stylla and Zavinci.
Talking about the issues that V2 retail faces as a retailer, Chairman and Managing Director, V2 Retail, R C Agarwal says " Seasonal demand fluctuations, leads to addition of temporary staff during these times which are not well trained to serve the customers at their best. The best thing is to develop a plan to assimilate temporary workers."
Further talking about his vision for future, Agarwal, says, "I want everyone in the world to be healthy and stylish whether they are rich or poor. I am taking efforts to cater variety at very reasonable prices. I want to explore this immense retail with my 2.5 petabytes brain capacity. To achieve a 'one size fits all' approach is to develop a standard product chain that would fi t in all instances and related applications."
P N Rao

Founded in 1923, Bangalore's P N Rao has helped many a man style their life's finer moments through its fine suits. With six stores currently, the company is envisaging a future growth and also mulling franchise route.
Bangalore-based P N Rao is one of the earliest and largest family-led businesses in the Indian men's fashion. The company has been on the forefront of suiting and groom wears for more than 90 years. Since its inception, three generations of P N Rao have carried forward its legacy through changing fashion trends and custom wears.
Market presence
The company has chosen to grow organically thus far. Having developed immensely in terms of both profile and scale, it as of now operates six stores, of which five are situated in some of the best locations in Bangalore and one in Chennai. These stores cover roughly 25,000 sq.ft. of total retail space.
The Future
In its pursuit of further growth, P N Rao is mulling multi-pronged expansion strategy as Ketan shares, "Currently, all our stores are company-owned but we are open to the idea of franchise to expand further. We also plan to extend our product offerings and are considering to tie-up with some of the premium online shopping portals.

Akbarallys men

Akbarallys men has fulfilled the dire need in the South Mumbai area for a trendy men's clothing store, through the transition from a departmental store to a concept store was not easy.
Market Presence
As Umme Aiman Khorakiwala, Managing Director, Akbarallys MEN defines, "We found a need for a men's store. However there are many men's outlets in Mumbai but they are exclusive brand outlets to a particular brand. The men needed a store where they could come and shop everything under one roof. This is the need we identified and changed what we were doing before i.e. the departmental store from the last 100 years."
Khorakiwala further explains, "We also discovered the fact that the men's brands that we are going to work with are very organised players. We have a bouquet of popular men's brands in our store. Our store is one of a kind where a large space is being dedicated to the branded men's wear category."
The Future
The company has plans to expand further in Mumbai and other tier-II cities. It is planning to launch another store by next year. It is also doing thorough research and one can see more roll-out plans starting in the next two to three years.

The Chennai Silks

Founded in 1962 by A Kulandaivel, the company had a modest beginning as a khadi store. Gradually, it transformed into the largest textile kingdom in the entire state of Tamil Nadu.
Market presence
The Chennai Silks store is one-stop trusted destination for the entire family that offers quality clothing. Spread across all major cities of south India like Salem, Chennai, Coimbatore, Tirupur, Erode, Trichy, Karur, Ernakulam, Tirunelveli, Vellore, Villupuram, Hosur and Velachery, it also has stores at airports of Trichy, Hyderabad, Coimbatore and Madurai.
The main mission of the brand is to reach out to customers, beyond barriers and beyond boundaries. With a retail space ranging 20 lakh sq.ft., at present the brand has 20 exclusive brand outlets, out of which 16 stores are in Tamil Nadu and Kerala and 4 stores are at airport. The total annual turnover of the company till March 31, 2014 stood at Rs 1,500 crore with 10 percent turnover growth CAGR over the last three years.
The Future
Advanced supply chain management maintains the inventory of the company. The Chennai Silks believes in keeping a smooth rapport with its vendors. Hence, it follows ethical business practices and provides easy online payments. For customers' engagement, the company contact its loyal customers and create excitement among
them with every occasion in the year.
The company has plans to expand the stores pan India by 2020.

Bindals

Bindals, the complete family store is a known name in North India. Started in 1981 in Muzaffarnagar (Uttar Prades) with an objective to grow, its store count has increased to encompass 12 outlets in major cities likes Delhi, Meerut, Agra, Noida, etc.
Bindals is a known name in north India for family shopping. It is a complete family store selling readymade garments for men, women and kids. The fi rst outlet was opened in
Muzaffarnagar by Ram Dhan Bindal, who has more than 25 years of experience in the retail business of readymade garment.
Market presence
Arpit Bindal, son of Ram Dhan Bindal and acting Director of Bindals shared, "Expansion is our main aim. Over the years, our company has successfully build a vibrant link between our buyers and us."
The company has built the foundation of trust and quality that has lead to continuous growth and expansion of the store chain. Various marketing tools used to attract the new customers and retain the existing ones like marketing campaigns in print media like magazines, newspapers, outdoor media, online advertising on popular websites, etc. Time and again they also run offers like free shopping on purchase of a certain amount, gift cards, membership cards, sale and discounts. The company's stores are located in many parts of Delhi under various brand like Bindals Arcade, Bindals Sons, Bindals Brothers and Bindals Apparels. In Delhi alone, Bindals has five stores and they are still expanding.
The overall company turnover at CAGR in the past three years was around 15 per cent. Arpit quoted, "Our company has expanded its business with the growing trend and fashion awareness among people. Bindals is a trendsetter with a good reputation with all the national and international brands. We understand the need of every individual and our experience helps us to serve everyone on all occasions."
The Future
Bindals believes in expanding their business. Meanwhile, they also entertain franchise enquiries on their business, provided the interested franchisee should own a property where he can open the business and is willing to invest some amount in the business.

M&M

A popular family store changed the rules of the game when it diversified into a multi-brand outlet catering to national and international brands in the state of Andhra Pradesh. Dinesh Manoharlal Achhpeliya strived to tranform the Manhar Group into a thriving fashion garment chain in South India, called M&M store.
Market presence
Achhpeliya went on to expand his MBO concept to 4 other major cities in the state. Though all the stores were not as big as the flagship store, they ranged around 16,000 to 14,000 sq. ft.
Today, the brand is spread across an overall area of 2,00,000 sq.ft. with stores in Vijayawada, Guntur, Kurnool, Kakinada and Bhimavaram. Apart from the company owned stores, the Manhar Group also expanded their own exclusive in-house brand called Maanya, which operates through a separate retail format targeted at women. The brand has design and tailoring teams located in Delhi as well as Hyderabad. M&M does centralised buying and distribution to all its stores. The company's distribution centre is also located at Vijayawada, Andhra Pradesh.
The Future
Aiming at a 15 per cent growth rate year-on-year, M&M plans to launch two Maanya stores in the immediate future. M&M is also coming up with smaller format stores, which focus on specific categories. The stores will cover around 4,000-5,000 sq.ft. of space. The new smaller format stores will have specific categories for men, women and children.
Elaborates Achhpeliya, "There will be new experiences for customers. The zoning, lighting and a lot of things are going to be different. We are targeting locations like Eluru and Rajahmundry."
Sirs & Hers

Started in 1953 as a custom menswear tailoring shop, Sirs & Hers has today evolved into a complete family store. Situated in Delhi's famous Karol Bagh market, this multi-brand store enjoys the patronage of an enviable base of loyal customers in the capital city.
Offering a vast repertoire of well-known brands, Delhi-based Sirs and Hers has established itself as a prime shoppipng destination for fashion lovers.
The Future
Though it has no immediate expansion plans with respect to brick format, Sirs & Hers expects to benefit from the e-commerce to expand its reach. With tie-ups with e-commerce giants like Snapdeal and Flipkart, the retailer is exploring partnerships with other online shopping portals as well.

Juelle

Launched in 2009, Juelle has emerged as one of the key players in the women's wear section. Today, in just six years of existence, the brand has expanded itself to more than 2000 stores across India.
Market presence
The entire collection and designing is inspired by latest trends prevalent in Indian and international market. Their customer centric vision has helped them to expand themselves to more than 2000 stores across India. The brand today, is recognised as one of the most promising women's westernwear brand in the mid-segment fashion category. The turnover growth compound annual growth rate (CAGR) over the last three years is 25 per cent each year.
The brand targets the young and fashion conscious customers within the age group of 22-30 years. Juelle, right from its inception, has maintained a combination of fair pricing and high quality, so that the youth gets a taste of the latest global trends without burning a hole in their pocket.
"We have been visiting fashion shows in Europe, collecting concepts from all over the world and we have been modifying and modernizing them to cater to the Indian target audience," remarked Guneet Singh, Director, Juelle Retail Pvt. Ltd.
The Future
The company targets to promote Juelle in all major metros and cosmopolitan cities of India. They also plan to increase the product profile by introducing new categories on the same target segment in existing multi-brand outlets (MBOs). If any good offers come their way, tie-up with large format retailers is also in the pipeline.

G3 Fashions

G3 Fashions in Surat is a hotspot for the latest in ethnic and western wear. A one stop family destination, its massive collection of women's wear and men's wear enjoys unprecedented demand throughout the year.
Market Presence
The foundation of G3 Fashions was laid in 1987 by Shankarlal Patel under the K S Trading Company's label with mere 200 sq.ft. of space that sold retail garments. Presently, they have two stores in Surat, one in Lalgate with total area of 15,000 sq.ft. and the other in GhodDod Road which is 25,000-30,000 sq.ft in area. In 2010, under the able guidance of Jigar Patel, G3 Fashions initiated its e-commerce operations with a dedicated offi ce that sprawled across a lavish 20,000 sq.ft.
The Future
Presently, G3 fashions have no expansion plans and are focusing on their present establishments.