Wildcraft, which started in a garage in southern Bengaluru's Jayanagar with a bootstrapped investment of just a few lakhs has scaled many heights over the past few years.
It started as a outdoor services firm and currently has two manufacturing plants – one in Bengaluru and one in Himachal Pradesh – and employs around 2,500 people. It has over 160 stores in 65 cities, including tier II and tier III towns, and also supplies its wares to other countries.
In a conversation with IMAGES Group's Gurbir Singh Gulati, Gaurav Dublish, Co-founder, Wildcraft, talked about the brand, the strategies that go into making into successful and Wildcraft's future plans. Excerpts from the interview…
Tell us about your brand in detail. How did the idea and the name evolve, history, positioning, target audience?
We began our journey in 1998, in Bengaluru, when we decided to start an outdoor services firm. We took people rafting, kayaking & rock-climbing. By 2007 we decided to convert Wildcraft into an outdoor gear provider. Initially we used to say we would assist people for the outdoors, then we decided we would equip them for the outdoors instead. The term Wildcraft was framed since we wanted to assist people who are crafted for the wild.
Tell us about your production and design capabilities and talents?
First thing we did when we started was to hire a designer, not sales or marketing person. We have a huge team of designers who come up with innovative technologies.
Tell us about your complete product range and MRPs?
We are a head to toe outfitter catering in Apparel, Footwear and Gear (comprising of backpacks, rucksacks, sleeping bags, tents and other travel and outdoor accessories). We are priced at a range anywhere between Rs 500 – Rs 10,000.
Winters are almost there…Tell us what's new with your jackets line?
Our latest launches include our down jackets, reversible jackets, wind cheaters, soft shell jackets, micro loft jackets, husky self-packable jackets, mountain jackets and various other hoodies and sweatshirts.
Which of your jackets are you most proud of?
The down jacket made of down feather that can be packed to the size of a travel pillow is the one that is one of our best-selling jackets.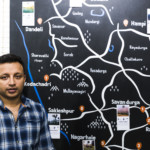 Are you planning to introduce any new products? Kindly elaborate on any exclusive product launches or new developments planned for your brand.
We will be launching the latest range of adventure gear early next year which will comprise of rucksacks, backpacks etc.
Are you witnessing any major changes in demand for your product category?
We are seeing a slow demand shift from backpacks to apparel and footwear. We wanted to break the positioning of being known only as a backpacker brand.
Tell us about your current distribution network. Which are the markets that you are strong in?
India is our strongest market where have actively tapped Tier II and Tier III cities, along with key metropolitan cities which host our flagship stores.
What has been your brand presence in the international markets?
We have our footprint across 11 countries across Middle East and South-East Asia.
What are your retail expansion plans? What are your plans to explore new markets in India?
We intend on adding 40 new retail stores every year. We are aiming to be present in Tier II and III markets to ensure travelers have access to our products.
Which according to you is the untapped market in India where you have a lot of potential?
North India, Delhi, U.P.,(majorly North India) is a big market considering we are in apparel and footwear. Since we are a brand based in the south, we have not tapped the potential in the northern area, which has great purchasing power.
What is your presence online? How far have you been successful?
We are present across all major platforms (Myntra, Flipkart, Amazon, Ajio etc.) and have been very successful. We are currently at #1 in selling gear online. Online contributes around 15 per cent of the sales at present, while next year the company is expecting it to be slightly higher at 18 per cent.
How much turnover growth are you aiming at in the next 2-3 years?
We intend on doubling sales to Rs 1,000 crore in the next three years. We will be investing around Rs 350 crore by 2020 for expansion and marketing.