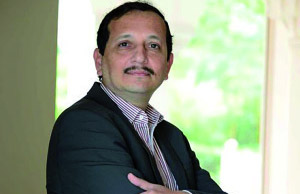 With over 22 years of core business IT experience, Meheriar Patel is adept at successfully delivering organizational Information Technology and change management solutions. His responsibilities include IT leadership, innovation and adoption across multiple technologies with planned business benefits.
From heading IT set-ups for multinationals and Indian conglomerates to implementing large IT projects in transforming business and ERPs in various industry domains to formulating digital strategies within the realm of retail as well as for airline, pharmaceutical, banking, finance, logistics service sectors, his expertise spans the entire IT spectrum.
Patel has also worked with Sun Pharma as Head Technology, Global Infrastructure. His duties and responsibilities include managing IT landscape for infrastructure services, building value driven customer focused initiatives and change management and improvement of process in improving services and standards, aligning teams in-house and outsourced focused to deliver IT services with resilient architecture focused and structured and developing standard operating procedures around infrastructure.
He has also worked with USV Limited as Chief Information Officer and Vice President – Information Technology, Globus as Chief Technology Officer and Head e-commerce, Human Resource and Admin and IT, Jet Air Pvt Ltd as Senior Manager and Head – Infrastructure and Communication, Oman International Bank as Manager Information Techology, India Operations and ICICI Securities as Business Relationship Manager IT.
According to Patel, the three biggest/ most important changes happening in the world of technology are traditional to digital technology, mobility platforms and its ease of use and freedom to
transact (cashless society) building financial transaction platforms.
The three game changing technologies in the space of customer experience are Artificial Intelligence, 3D Technologies and Mobile Enabled Platforms, shared Patel.  In which the first two can be a game changer, as and when key Use Case and Proposition are converted to real retail initiatives and acceptable standards across.