The Indian beauty products and services industry is in excess of an astounding US $12 billion. India forms a large chunk of this makeup pie, most of which is offline. That itself gives one a brief idea on the potential of this burgeoning sector that is just waiting for the right brand to realize it. Purplle – a marketplace for personalized beauty shopping, where beauty meets technology – aspires to do that, and paint the country 'purplle' while doing so.
Purplle is more than just a merchant. Not only does it have a world of products – from makeup, electronics and fragrances – but it's also a window to a world of beauty services like spas, hair treatments and specialized makeup.
The brainchild of two IIT whizkids – Manish Taneja and Rahul Dash – Purplle was founded in 2012 after a huge service gap was observed in the Indian beauty sector. They found an urgent need to systematically begin organizing the thus far, very unorganized sector. They started to piece together their big dream and it soon began falling in place.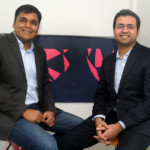 Talking about the brand, CEO and Co-Founder, Purplle.com, Manish Taneja told Indiaretailing Bureau: "Purplle has been able to personalize the beauty product discovery process for the consumers by collecting their beauty persona and combining it with Purplle's proprietary beauty knowledge engine."
He further added, "The beauty engine is able to decipher things like tea tree can help itchy scalp, party wear needs brighter lipstick shades and red goes well with fair skin."
Purplle has clocked approximately Rs 300 crore gross sales with no single brand contributing to more than 5 per cent of the total. This is primarily because the marketplace has guided 40 per cent of the beauty users through a personalized shopping experience.
Ocean of Collection
Purplle.com has a large assortment of products across 650 brands, 50,000 SKUs, and 300 beauty specific sellers who act like an extended business development arm enabled by a strong technology/data backbone. This helps them make stocking and pricing choices in no time. The brand provides all warehousing and logistics services to sellers to ensure quality of products and delivery is maintained.
"We have tied up with 6,000 salons with detailed pricing information on the platform for customers to make a choice for the right service," revealed Taneja.
International Supply and Private Labels
The value conscious Indian beauty market is at a stage where the growth in penetration of beauty as a category into the Indian homes is exploding. So the brand, which is offering a huge collection of the products and services, has observed a massive interest from international brands for exclusive partnerships for the Indian market.
"We are bringing at least 10-12 international beauty brands in FY18. We aim to achieve 35-40 per cent of sales coming from these product lines in next three years," Taneja told Indiaretailing Bureau.
He further added, "We have private label in makeup and launching skin soon. In segments where the private label exists we already have a 15 per cent market share."
Profitability
The brand, which has an average ticket size of Rs 1,500 and growing year-on-year at the rate of 250 per cent, has broken even operationally last year and would be EBIDTA positive in coming few months.
"Private labels and international brands would only add to our overall profitability.The best part about the business is the amount of the capital taken by Purplle to scale is almost a fourth of other competitors in the market. We have only consumed around Rs 30 crore to reach the current scale and with very high revenue per employee," revealed Taneja.
The brand, which delivers to 16,000 pin codes and welcomes repeat customers on 80 per cent of the total transactions, is looking forward to grow 2-2.5x in terms of quarterly numbers.
Future Plans
Being run by the best brains in technology and management, Purplle has fixed all the holes that could lead to product and delivery lapses. The brand that is following a methodical expansion chart, is hoping to end the current financial year with a gross merchandise value of US $30-40 million.
Taneja said, "There are plans to expand to 35 new cities within next three years. Newer projects, all in the beauty domain, are being swiftly and carefully planned for immediate execution."
He further added, "As a matter of fact we have a Omnichannel road map laid out. We are evaluating options around own stores, franchisee and other formats and all the stores will be fully integrated with the online channel. Omnichannel would definitely come to fruition in the next 6-8 months with a pilot if not more."
The brand is planning to open five stores in Mumbai with an investment of around Rs 15 lakh per store.
Purplle is also looking at expanding personalisation capabilities to a million beauty customers in the next 6-12 months.
"We are already exclusive distributors for nine brands for Indian geography and are adding four more this quarter. We expect 20 per cent of the sales in relevant category to come from these exclusive brands," concluded Taneja.