Spencer's Retail, an RP-Sanjiv Goenka Group Company, announced opening of its much awaited 14,000 sq.ft. store in Downtown Mall, Uniworld City in Rajarhat, Kolkata. This is the 22nd Spencer's Retail store in Kolkata and 125th store pan India.
Speaking about the launch, Sector Head – Retail at RP-Sanjiv Goenka Group, Shashwat Goenka said that with the addition of the new store at Downtown Mall, Rajarhat, Spencer's Retail is looking to extend its unique shopping experience to the residential area of Rajarhat in Kolkata.
According to Goenka, Kolkata is a very important city for Spencer's and over the years, they have received overwhelming customer patronage. He added that there are plans to further increase the number of stores in Kolkata and the Eastern part of the country this year. The retail chain is already spread over 3.6 lakh square feet in West Bengal which garners a footfall of about 1.2 million on a per annum basis.
The new Spencer's store at Downtown Mall, Rajarhat will operate between 7:00 am to 10:00 pm on all days. Consumers can expect the latest shopping experience with more than 20,000 quality products at an affordable price. There is provision for free car parking and fastest-possible check-outs with a large number of cash tills installed in the store.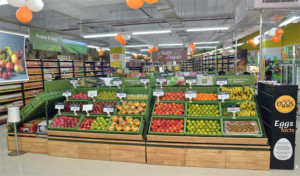 The offerings at the new Spencer's store will include a wide range of fresh foods and vegetables, fish and meat, frozen and dairy products, FMCG processed foods, beverages, personal care products and an extensive home essential range. Good news for customers visiting this outlet is that the store offers a wide range of fresh and processed, fish and meat products which can be cleaned and chopped as per requirement, free of cost, while they can shop at the store.
Due to high demand from its customers, the new Spencer's store in Downtown Mall, Rajarhat have also stocked a large home merchandise section with exciting offers on home essentials like bedsheets, utensils and luggage category.
According to Goenka, Spencer's will source a considerable section of the staples products such as rice, oils and spices locally as well from different parts of the country to cater to the unique customer requirements.
The click-and-brick retailer, last year introduced online shopping facility through their website, www.spencers.in where patrons can avail hassle free home delivery services.
According to Goenka, the online retail arm of Spencer's Retail has received tremendous response from the customers and is already a differentiator for them in the business.
Currently, www.spencers.in is available in Kolkata, Gurgaon, Noida, Gaziabad, Hyderabad and Chennai. The service is expected to kickstart in Vishakapatnam soon as well.
Currently, Spencer's runs 125 stores including 39 large-format stores across 35 cities in India. The all-India footfall is nearly 4 million per month. Spencer's store dates back more than 150 years since the set up of its first store in Chennai way back in 1862.
Spencer's has been recognized as the 'Most Admired Retailer of the Year – Hypermarket' for three consecutive years at the India Retail Forum. It has also won 'Most Admired Food and Grocery Retailer of the Year for best category performer' across multiple categories at the Coca Cola Golden Spoon Awards, 2017.