In today's highly competitive market of retail, the technology that is used to transact is not that crucial. No doubt quality, price, range are very important but research shows that the consumer experience should be more highly rated. Store experience is currently being flagged as the major factor to position retailers at the top of the pecking order.
The major aspect of getting personally associated or the 'personal touch' matters immensely in customerfacing businesses. Imagine a shopper's route being tracked in a supermarket via GPS and the shopper being sent personalised messages of offers or discount coupons according to his/ her location in the store. For example, if a shopper is buying a bread and gets offers on butter or jam, it helps in complementing cross selling as well as increasing customer share value. Obviously, the coupons or schemes generated and given to shoppers are well understood by POS engine and has a centralised control. In the case of decentralised and traditional way of infrastructure, shoppers may identify required products quickly on the online purchases but when they walk into any store, the POS might show 'out of stock' or may discourage the shopper by not giving correct and updated information of the same product available by locating any other store. The online and physical shopping experiences are totally different. Hence retailers need to think about how to integrate their physical network of stores with their online environment in order to offer shoppers a shopping experience at the Point of Sale that is just as rich, engaging, and personalised as the one they can get in the online store.
CEO of Infinitas Technology Solutions, Ajay Joshi shares the importance of POS, POS rules that retailers should follow and a lot more:-
Tell us a bit about INFINITAS. What is the idea behind the inception of the company?
INFINITAS is an IT solution provider with exclusive and advance partnership of NCR in India for financial technology and retail technology solutions. NCR the global tech leader in consumer transaction technologies with quality hardware and software and the company who makes 550 million transactions possible every day; with NCR, we're helping our customers respond to the demand for fast, easy and convenient transactions with intuitive self-service and assisted-service options. But what we do goes beyond niche technologies or markets. Our solutions help businesses around the world increase revenue, build loyalty, reach new customers and lower their costs of operations.
At INFINITAS Our business paradigm is based on the importance of relationships and a relentless pursuit for excellence.
We never lose sight of a commitment to fulfilling the particular needs of each client, building a long-term mutually beneficial relationship on that foundation. We have adopted a strategy of identifying and associating with best of breed product vendors for the respective segments of our market.
Our value addition to the customer is served in the form of product expertise, domain knowledge and an unflinching passion to ensure business continuity from an IT perspective
INFINITAS has biggest value proposition for understanding, consulting and providing the right and world class premium retail technology solutions to retail chains across the geography through most experienced resources.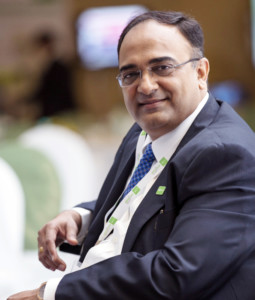 What is the role of POS in a retailer and consumer's store experience?
The challenge for today's retailers is how to deliver the consistency of experience and personalization that consumers have come to expect from e-commerce, as well as give them a reason to travel to you – and all without impacting the ever-squeezed bottom line. The wealth of research available tells us that the retail hierarchy of needs include impeccable customer service, speed and efficiency, the right information and availability of products, and lastly, an element of personalization. All this effort is in vain if the consumer is lost at the final hurdle. A majority of customers and money is lost due to long wait times.
Being a system driven organizations all retail chains need the infrastructure which is robust, advanced, well connected to future with excellent ambience; and that is a POS which can fulfill their requirements.
Tell us about the innovative design and features of your NCR POS terminals.
NCR POS systems are offering today's retailers an efficient route to better and more personalized customer relationships. By adopting and integrating these technologies into legacy systems, even the most mass-market and high-turnover retailers can mimic the bespoke and tailored customer service of the smallest shops to encourage greater and more regular purchasing patterns from today's ever-more demanding consumer. NCR spends huge on R&D as well as meeting the quality expectations of buyers. XR7 Model is the most attractive, robust and used with industrial grade processor to suffice 24×7 service requirements. Dual screen, MSR, wifi and all other add on makes product more versatile as well as advanced.
What edge does INFINITAS has over other retail service providers in the Indian scenario?
We have a team of seasoned executives from the core domain who have successfully implemented software and hardware solution projects for the number of clients across the India and all other parts of the globe. NCR is a global leader and INFINITAS as a local partner; we understand the local technical, economical, legal challenges of the buys. Looking at this INFINITAS facilitates in bringing global and premium product to the local market with timely deliveries, easy payment options, and lease options and after sales support. INFINITAS has presence in more than 300 site locations to serve any part of the geography.
Hence INFINITAS has strong partnerships with international agencies; focused on delivering results, helping local small business reaching their goals. Helping customers define their business goals and steps to achieve them.
Tell us about your Omnichannel order management solution.
In today's highly competitive market of retail, the technology that is used to transact is not that crucial. No doubt quality, price, range is very important but research shows that the consumer experience should be more highly rated. Store experience is currently being flagged as the major factor to position retailers at the top of the pecking order.
The major aspect of getting personally associated or the 'personal touch' matters immensely in customer facing businesses. Imagine a shopper's route being tracked in a supermarket via GPS and the shopper being sent personalised messages of offers or discount coupons according to his/ her location in the store. For example, if a shopper is buying a bread and gets offers on butter or jam, it helps in complementing cross selling as well as increasing customer share value. Obviously, the coupons or schemes generated and given to shoppers are well understood by POS engine and has a centralised control. In the case of decentralised and traditional way of infrastructure, shoppers may identify required products quickly on the online purchases but when they walk into any store, the POS might show 'out of stock' or may discourage the shopper by not giving correct and updated information of the same product available by locating any other store. The online and physical shopping experiences are totally different. Hence retailers need to think about how to integrate their physical network of stores with their online environment in order to offer shoppers a shopping experience at the Point of Sale that is just as rich, engaging, and personalised as the one they can get in the online store.
The significance of POS in Omnichannel retail remains unchanged. A recent study shows that 76 per cent of selling happens through POS. Today's shoppers expect many things from store employees. According to a Forrester study, 65 per cent of shoppers expect that information of prices should be given by sales attendants. Over 55 per cent people want instant information on stock that is not available in the shelf. About 48 per cent shoppers want to know if an out-of-stock product is available in a nearby store or online; 37 per cent people want additional product information, picture and reviews of previous buyers and their experiences. (Forrester's North American Technographics Retail Online Survey, Q2 2012).
To do all of this, it is necessary to break down the existing data silos and introduce a single, comprehensive product data management system for all sales channels. An additional Omnichannel order management solution makes it possible to implement a standardised stock display, which is a prerequisite for any 'Buy Online, Pickup in Store'.
How can Omnichannel POS technology transform a retailer's operations and provide shoppers with the experience they expect?
Giving an experience that lasts longer delivers psychological benefits to the shopper and is rewarding for retailers. Imagine a shopper facing a sales assistant, who is standing with a tablet to enters the shopper's credentials. Obviously, these tablets are interfaced with the central data and hence can identify this shopper's history of purchases immediately. On the basis of it, the system generates schemes or discount coupons that may be customised for this shopper. And when this shopper asks for a particular product, details, instructions, pictures or reviews are immediately shown by the sales assistant on the tablet. Also, the tablet will show other, complementary products, resulting in boosting the cross selling. All this information sharing is happening with the coordination and intelligence used by a centralised POS engine. Hence, in case the desired product is not in
stock, its availability can be immediately determined in the nearest store or POS. Is shoppers can be given such customised, intuitive experiences, the value addition can significantly enhance sales numbers for any retailer.
What are some POS rules that retailers can follow to adapt to any future changes in technology/ consumer behaviour?
Here are few rules about Omnichannel POS technology, which if followed, will transform a retailer's operations and provide shoppers with the experience they expect.
CONSISTENCY: Uniformity in prices and transparency gives an opportunity to earn loyalty and delight of the shopper. To meet this requirement POS engine needs to ensure consistency. Shoppers should have the same basket no matter how they shop. May be the wish list started online and completed in store. To achieve this same POS transaction engine must be interfaced well with all other channels like website, mobile apps, kiosks, self-check outs, teleshopping, stationed devices in store, etc.
SUPPORT IN OVERALL CYCLE: Basket always follows the shopper. So, it is very important and crucial to give them support throughout their buying journey irrespective to the channel they use or switch to either online or physical.
POS should understand where the stock is and how it can reach shopper at the location of their choice. A single view of stock across the retail organisation.
POS needs to support intelligent fulfilment, enabling processes such as click and collect, ship from store, ship to store, reserve and try, and many more, to ensure the shopper gets what and when they want it.
BACKUPS: POS engine must be equipped with the ready back up plan. The technology connected through cloud solutions is good and robust but especially when network fails means store is unable to trade. Impact of business loss as well as delight has greater impact on overall business. To maintain the good consumer experience need to have a stand-alone purchase feature with the POS engine which should help purchasing even when the network fails. Today's technology enables POS systems to build in automatic switchover to locally powered devices, and then recover back to the cloud when network connectivity resumes.
KYC: Providing a personalised experience with relevant and timely information and promotional offers is critical to success with shoppers.
An Omnichannel POS needs to display the same recommendations in-store as used to tempt shoppers online or via email, and importantly, ensure the offers they receive are consistent and redeemable regardless of the shopping channel.
MULTIPLE PAYMENT OPTIONS: Payments should happen in quick, reliable and secured way gives more comfort. Along with this, shoppers should not have a limited ways to pay. NCR POS provides the best ways to integrate the newest ways of payment options so that shoppers can swiftly adopt the payment as per choices. From the shopper's perspective, for reasons of convenience and speed, they are increasingly happy to scan and pay themselves when making simple purchases and often expect retailers to have these channels in place.
Co-op retail stores in Denmark recently launched their own mobile scanning and payment system, powered by Omnico, that allows shoppers to use their smartphones to scan and pay for goods in stores. By doing so, the retailer was able to both simplify and speed up the payment process.
SCALABILITY: POS solution must have the scalability, as and when the demand is fluctuating then the technology team faces challenges of upgrading the solution or determining how scalable it is. The solution is to deploy POS in the Cloud, allowing a retailer to scale up and down their computer resources and processing power based on the number of shopper transactions. Retailer can cope with heavier trading periods such as first week of the month, school holidays, Diwali, Christmas or festival periods and so on, and scale back the technology requirement during quieter times. Utilising resources in this manner optimise the cost of ownership.
MULTI LINGUAL SUPPORT: As India being a heterogeneous country where every state, region has its own local trends, languages, culture. Along with the Omnichannel experiences the POS needs to have multi-lingual support to the shoppers as well as the operators will scale up adaptability and acceptability with in them. The friendliness in operating it will obviously improve the shoppers buying experience.
With these POS rules, retailers can gain the ability to quickly and seamlessly adapt to any future changes in technology or consumer behaviour.
How INFINITAS can add value in case of business to their customers?
We at INFINITAS follow a customer centric model as –
Product: INFINITAS provide the customers with a product intangible service that fulfills a need or want of consumers. We have a clear grasp of exactly what our unique product is and provide a good solution.
Price: Depending on the functionality required, point of sale systems can vary dramatically in price. One thing to consider is whether you are simply purchasing the hardware or if you need
payment software too.
We at INFINITAS have different pricing models, our pricing model is of Prestige Pricing, we also provide offer deals that allow you to purchase the machinery for a reduced price if you pay at a monthly cost. We lease it to see that investments of buys go down; they can invest in their core business and make it stronger, we take care of their PO investments and then easy pay outs to us.
Place: We have a strong chain of distributors across the globe, our retail products are delivered directly from the Hungary NCRs manufacturing unit. We also have our strong presence in Dubai to address all ME countries and all across India where in the delivery and support for the product is easily accessible.
Connect with us for further information about our digital wayfinding displays and it's pricing at Infinitas technologies solutions [email protected] , [email protected]