Toonz Retail India Pvt. Ltd., a one-stop-shop for all needs of children from 0-12 years, has associated with NGO Goonj to run a pan India 'Change for Good' exchange initiative across 51 cities.
The campaign encourages parents to give their children's old belongings, which are in good and usable condition to those who need them. The 'Change for Good' initiative is all about bringing a smile on thousands of little faces.
The campaign will run till June 15, 2017, across 100+ outlets of Toonz, inviting parents to give away things which are no longer needed, to gift another child a new start.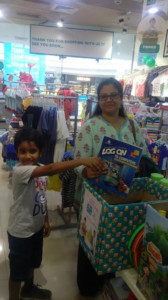 All the donated material will be collected by Toonz, which will then transfer it to NGO Goonj, who will in turn make sure the things reach kids who can use them. Goonj will also be responsible for quality check of all materials collected.
Toonz Retail India has set up Goonj collection boxes across all their outlets, publicizing the campaign amongst their customer giving them an opportunity to contribute.
Materials which are being accepted includes clothes, woolens, blankets, umbrella & raincoats other rain wear mats & bed sheets, curtains, sporting equipment, bags, furniture, toys, books & educational materials like stationary, notebooks, school bags, utensils, water bottles, lunch boxes etc.
Commenting on the association with GOONJ for this exchange initiative, MD & CEO, Toonz Retail India Pvt. Ltd., Sharad Venkta, said, "It is a known fact that kids outgrow their clothes very fast. Most parents don't know what to do with them. This initiative of ours is a solution for them where they can give away old clothes and bring a smile on the face of another kid. We did a small pilot of this exchange program last year during children's day and received an amazing response. Hence this year we decided to associate with NGO Goonj and do this entire activity on a much larger scale across 51 cities. It has been a pleasure to associate with NGO Goonj, to run the 'Change For Good' exchange campaign. This initiative also gives us an opportunity to reach out to a larger audience."