According to a Reuters report, Adidas has been testing a new "Knit For You" process at a pop-up store in Germany that allows shoppers to design a sweater and take home product within a few hours, Reuters reports.
At a pop-up Adidas store in a mall in Berlin, customers designed their own merino wool sweaters for 200 euros ($215) each and then had them knitted in the store, finished by hand, washed and dried, all within four hours.
Customers can pick up a standard size sweater or go for a laser body scan so it is custom fitted.
Visitors to Knit For You are guided in the design of their own sport-to-street merino wool sweater. Enabled by in-store digital architecture, exacting fit is achieved through body scan technology, while a motion-responsive projection room offers additional fuel for inspiration.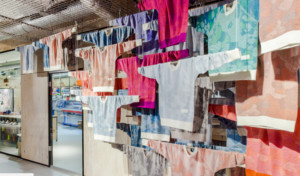 In layman's terms, customers will go into a dark room and stand in the middle of an illuminated box. Different patterns will be projected on their chest. The patterns can be moved around on the sweater using hand gestures, which are picked up by sensors.
Each sweater is then made to order on the spot according to specification, delivering a product with an exceptional combination of speed, efficiency, and personality.
Customers will be able to try out several options, then look at them all later on a monitor. It's also possible to test out different colours by putting swatches on the high tech gadget. The sweaters are knitted on machines right in the store.
According to Reuters, Adidas wants 50 per cent of its products to be made in a faster time frame by 2020, double the rate in 2016, which it expects will increase the proportion of products sold at full price to 70 per cent from less than half now.
This isn't the first time that Adidas has tried to speed up its merchandise manufacturing. The company employs robots extensively throughout its operations and has dabbled in 3D printing before.