Technology is revolutionizing the way consumers shop. Be it smart fitting rooms which give suggestions based on customer's preferences, virtual mirrors or even iPads that allow customers to find products, retailers are capitalizing on cutting-edge technology to offer never-before shopping solutions.
Retail technology has transcended from an aspiration to an expectation and has wedged itself securely between consumer and experience to create an everyday interface. A plethora of experiences have migrated online and with them, consumers.
Experts predict that the retail sector will change again – this time dramatically – over the next two decades, with innovations such as delivery drones, virtual mirrors and 3-D printers all set to alter the way people shop. In fact, retail technology professionals say that 3D tools are completely changing the way brands interact with their consumers.
One company, successfully helping blur digital and in-store experiences and opening up exciting new retail opportunities is Dassault Systèmes' the 3DEXPERIENCE Company.
The 3DEXPERIENCE Company provides businesses with virtual universes to imagine sustainable innovations, transform the way products are designed, produced, and supported, enabling businesses to craft delightful customer experiences.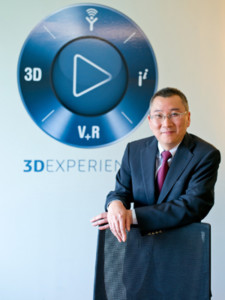 "Our platform helps retailers create 'social enterprises' that involve their customers in the innovation process. With its online architecture, the 3DEXPERIENCE environment helps businesses to test and evaluate – anywhere in the development lifecycle of a product or service – the eventual experience they will deliver to their customers. In short, 3DEXPERIENCE powers the next-generation capabilities that drive today's experience economy," says Managing Director, India, Dassault Systèmes, Samson Khaou.
Challenges Facing the Indian Retail Industry
As per the India Brand Equity Foundation, India is the world's fifth-largest global retail destination. The Indian retail segment has emerged as one of the most dynamic and fast-paced industries in the world, accounts for over 10 per cent of the country's GDP and provides employment to roughly 8 per cent of Indian populace.
The sector is expected to nearly double to US$ 1 trillion by 2020 from US$ 600 billion in 2015, driven by income growth and urbanization. E-commerce is probably creating the biggest revolution in the retail industry, a trend that is expected to continue in the years to come.

E-commerce: Khaou says that the growth of e-commerce is a cause for concern for the traditional retail industry. 2017 could witness another tipping point in e-commerce, driven by the ambitious growth agenda of the leading pure-players. "The growth of online isn't over and is likely to have a greater impact on traditional players as they continue to scale. It's only just begun."
He says that even though the long-term outlook for the Indian retail industry is positive, supported by rising incomes, favorable demographics, entry of foreign players, and increasing urbanization, traditional retailers need to leverage digital retail channels, which would enable them to spend less money on real estate while reaching out to more customers in Tier II and Tier III cities.
Digital Stores: Adding to the growing challenges are digital stores – stores being re-imagined for the digital consumer. "A new balance needs to be struck between transaction and fulfilment. We believe the store experience will increasingly focus on one of two things: inspiration or convenience," says Khaou.
This is where, according to him, Dassault Systèmes' comes in. "The solution experience Dassault Systèmes provides its customers is a unified digital environment to overcome these challenges and to connect internal and external stakeholders, integrate the value chain, and improve visibility, flexibility and decision support."
Why Indian Fashion Retail Prefers Dassault Systèmes
Currently, the company offers solutions to the fashion segment in India – apparel, luxury, footwear and accessories. Arc International, Arvind Lifestyle Brands Limited, Myntra, Fossil, Gürmen Group, Nowy Styl Group and the Rockport Group are some of the 17,000 international companies in fashion, home, lifestyle and retail that are successfully collaborating with Dassault Systèmes to create and deliver products that consumers will love.
These companies can have access to a full portfolio of solutions to digitally transform their business.
"We chose Dassault Systèmes' 'My Collection' industry solution experience to replace our existing Product Lifecycle Management solution after a thorough evaluation of various competing solutions," said Business Head, Aditya Birla Fashion and Retail Ltd, Ashish Dikshit.

ABFRL is recently engaged in a customer-centric strategy to develop innovative collections inspired by customers and trendsetters for its more than 7,000 points of sale across premium multi-brand stores and department stores.
Dikshit says that with Dassault Systèmes' My Collection, the company has one digital solution to manage its collections from their initial concept to the retail environment.
ABFRL retails four of India's top fashion brands including Louis Philippe, Van Heusen, Allen Solly and Peter England. The company also houses a range of fashion formats such as Planet Fashion and The Collective and Pantaloons.
Dassault Systèmes claims brands and retailers can improve operational efficiency and reduce cost of goods by up to 30 per cent by using their solutions.
Says Khaou, "Our solutions ensure teams can collaborate in a single environment, spending less time chasing and duplicating data and more time on developing and sourcing items. Our solutions can help mitigate the risk of incorrect samples, additional costs and production errors or delays, to accelerate time to market of products that meet consumer demand," adding: "More and more apparel companies of all sizes in all markets are adopting our technology and its depth of functionalities, for maximum visibility across seasons, categories, products and variations."
What Dassault Systèmes Does for the Consumer Goods & Retail Industry

"Dassault Systèmes provides 3D applications to improve and accelerate the end-to-end business processes behind a company's collections. From creative and detailed design to the ultimate consumer purchase experience, the platform gives digital continuity at each stage, all the while enabling real-time collaboration of all industry stakeholders and capabilities to improve visibility, flexibility and decision making," says Khaou.
The company has recently launched three new industry solution experiences:
My Design: Provides 3D design, performance testing and simulation, visualization and rendering capabilities for creative and detailed design
My Production: Addresses tooling design, product documentation, machining simulation, quality, compliance traceability and real-time manufacturing analytics to define ideal tooling and processes for flexible manufacturing operations
My Operations: Leverages intelligent logistics, agile production, supply and demand planning capabilities to improve efficiencies and operating margin
"In parallel, Dassault Systèmes has enhanced three of its existing industry solution experiences –My Collection: which helps manage the entire Product Lifecycle Management from inspiration through marketing and includes new configurable costing functionalities allowing brands and retailers to create formula-based costing templates to manage all areas of costing including planning, pre-cost, cost sheets, and the RFQ process. My Store: which enables 3D merchandising excellence; and My Product Portfolio: which provides a collaborative and integrated solution for multi-disciplinary design capabilities," says Khaou.
Apart from this, there is the e-commerce sector, which has seen a number of entrepreneurs and startups with several designers launching their brands and collections.
"Dassault Systèmes Industry Solutions Experience for Consumer Goods & Retail can certainly help these designers and entrepreneurs to a faster Go-To-Market in process development and sourcing of materials," says Khaou.
What Consumers Want
Consumers today are extremely fashion conscious. They want – and expect – a high degree of personalization, sustainable products, and just-in-time delivery. Disruptive technologies such as additive manufacturing and augmented reality create noise across the marketplace making it difficult for companies to differentiate themselves.
"At Dassault Systèmes, we understand that success lies in adopting a nimble and flexible mindset while adapting to modern consumer expectations. We realize that thriving and growing in today's economy will require brands to enhance their brand identity and differentiate themselves from the noise of their competitors," concludes Khaou.
 
Brand Journey
 ·         Dassault Systèmes' story began in 1981. A spin-off of a team of engineers from Dassault Aviation, Dassault Systèmes was formed to design products in 3D. The same year; the company's flagship brand, CATIA, was launched and the company started working with major automobile manufacturers – BMW, Mercedes and Honda.
·         Subsequently with the introduction of new versions CATIA in 1984 became the world's leading application for aeronautical design. Significantly Boeing was a CATIA user then. And in the next four years, CATIA also became the world's leading application for automotive design.
·         In 1993, CATIA Version 4 introduced offering a new technology enabling the full digital mock-up of a product, enabling customers to significantly reduce the number of physical prototypes and to have a complete virtual understanding of the product.
·         In 1995, Bernard Charlès became president & CEO of Dassault Systèmes and in 1997, the company acquired SolidWorks, broadening its 3D design product line.
·         In 1998, the ENOVIA brand was created that focused on management of CATIA product data with the acquisition of IBM"s Product Manager Software. In 1999, the company expanded its ENOVIA product line with the acquisition of Smarteam focused on product data management for the small and mid-size companies ("SMB") market.
·         In 2000, the company won a contract with Airbus S.A. for deployment of CATIA V5. The same year, the company acquired Spatial, a leading developer of 3D software components. Addressing the digital manufacturing domain (digital process planning, robotic simulation and human modelling technology); the company created the DELMIA brand.
·         In 2003, Dassault Systèmes became a category leader in Gartner's PLM Magic Quadrant. In 2005, the company launched the SIMULIA brand, addressing realistic simulation, representing a significant expansion of the Company's simulation capabilities, leveraging the acquisition of Abaqus, as the core of its realistic simulation offerings and the Company's existing simulation products.
·         In 2006, the company expanded its offerings from seven to eleven industries and expanded the ENOVIA portfolio with the acquisition of MatrixOne, a global provider of collaborative PLM software and services to medium-to-large organizations.
·         In 2007, the company launched the 3DVIA brand, building upon several years of research and investment. The 3DVIA brand brings 3D technology to new users to imagine, communicate and experience in 3D.
·         In 2008, the company launched PLM 2.0 – PLM online for all and introduced the next generation Version 6 technology to the market. The company also acquired, Engineous Software, extending SIMULIA's leadership in Simulation Lifecycle Management solutions.
·         In 2010, the company acquired Exalead, a French company providing Search Platforms and Search-Based Applications ("SBA") for consumer and business users.
·         In 2012, the company introduced the Industry Solution Experiences and acquired Netvibes, bringing intelligent dashboarding capabilities, and SquareClock, providing cloud-based 3D space planning solutions.
·         "With all these acquisitions, the company expanded its strategy to 3DEXPERIENCE, a business experience platform that provides software solutions for all departments – from marketing to sales to engineering – that help businesses in value creation process and creating differentiating consumer experiences, powering industry solution experiences," says Khaou.
·         Today Dassault Systèmes is a scientific company- serving science, technology and art for a sustainable society with over 15,000 employees and serving over 2,10,000 customers worldwide.