As fashion business matures in the country, Future Group's very own value fashion brand, fbb, is set to reap the benefits of economies of scale in the backdrop of their recent store opening in Kolkata at Sheikh Sarai Sarani.
A value retail offering in the fashion space offering exclusive merchandise under own private labels, fbb started humbly with sections present across all Big Bazaar stores and a few standalone outlets across metros, mini metros and some tier II cities. Today, the brand is more than 300 stores strong – 53 standalone outlets and 282 outlets within Big Bazaar hypermarkets – with plans to open 30-40 new stores every year.
The company is also reportedly mulling the setting up of neighbourhood outlets for more modular consumption of the brand. The group has already done some pilots in cities and expects to soon roll out such stores.
In an exclusive interview, COO fbb, Rajesh Seth, talks about the roadmap of Future Group's fashion business and its growth path.


You recently opened an iconic fbb store in Kolkata at Sheikh Sarai Sarani. How important is East India as a market for you?
East contributes around 27 per cent of our total fashion revenue, so it's a large market for us and we do see lot of potential in East India as far as fbb goes. Apart from West Bengal, Orissa, Jharkhand, Bihar, and Chhattisgarh are significant markets for us. Even North East India is very important and we do have stores in Tripura, Meghalaya, Manipur, Assam, Sikkim.
How many more FBB outlets are you planning on opening this year pan-India?
We are planning to add 30 – 40 stores this year. There is huge potential in existing cities where we are available apart from untapped markets. So, this year we will be exploring all the major markets and retail hubs be it in metros or Tier II and III cities. Fbb is one format that cuts across markets. We don't have constraints in terms of space or TG because fbb operates in the space of value fashion retail and there is a typical demand for it in metros as well as in Tier II and III markets.
ALSO READ: Future Group hopes its fashion business will grow by 30 pc in FY18
What will be the size of new fbb stores?
The typical size earlier was around 8,000 – 10,000 sq. ft. but going forward, it will be around 12,000 – 15,000 sq. ft. with 15,000 sq. ft. being the ideal store. In some cities, we will have iconic fbb stores, which will be around 25,000 sq. ft. in size.

What will be the percentage split between FBB stores on high streets and in malls? 
It will be a combination of both. Talking about malls, each mall has a dedicated space for value fashion retail and we are part of most of the good malls and we will continue to do so. We will also look for the opportunities to opening stores in all the good high street markets also. It will be a 50: 50 percent ratio if we be specific. We will be expanding rapidly. In the last few years we have done a lot of work in fashion planning, now we are ready are foundation is laid and we have capacity to expand rapidly – so expanding in good retail real estate spaces is our strategic agenda.
Is fashion again becoming important aspect of Future Group?
Yes, absolutely! Fashion at Big Bazaar started as one of the categories in Big Bazaar. We saw a humongous traction for fashion category in Big Bazaar and we saw a great potential in opening a standalone fashion store and that is how fbb was incepted and it has been a huge success from the word go. If you see the new avatars of Big Bazaar, the ones we opened in the last one year, fashion has emerged as one of the leading categories in these stores, with some of the people just entering Big Bazaar for the fashion category.
What is the role that technology is playing in keeping you ahead of the game?
The technological intervention between customers and stores are limited to three major things –
POS: customers should have a seamless billing experience;
Digital/ LED screens: which showcase the latest collections and also loyalty programs
Frontend and backend integration: to make customer experience as smooth and flawless as it can.
In few months' time, we are planning on launching fbbonline.com, an extension of our physical format, an Omnichannel integration to make the shopping experience better for our customers.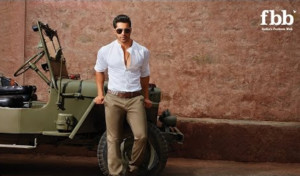 Are you taking help of technology to understand customer buying pattern in a better way?
As a group, we adopted a data analytics tool a couple of years ago called Manthan. It is a very strong tool and our most strategic decisions are based on data analytics in terms of designing new assortment, quantity planning, store level designing etc.
How do you keep up with evolving consumer behaviour?
When we talk about customer evolution the first and foremost thing that has led to this evolution is their buying behavior – from shopping for need based things to impulse buying, people have disposable incomes nowadays and it shows. Today, shopping is part of their day-to-day lifestyle.
When we talk of fashion, the awareness of fashion has gone up significantly – the whole idea of fashion from a consumer standpoint is that they want to dress right for every occasion. Fashion now is an amalgamation of style + convenience and we at fbb are matching this evolution step for step.
Many well-established foreign fashion players have entered India of late and have taken the consumer base by storm. What is your approach to the competition? 
In the context of India, these international brands and even some of the leading Indian brands also haven't reached the belly of India, which we have through fbb. These brands just target 5-7 per cent of the Indian population, whereas our TG is much bigger than that.
We bring to Indians, global fashion at very competitive prices. We talk to customers who can't afford global fashion but aspire for it and those are the people we cater to. We help our TG step into the world of fashion using fbb as a platform. They might later migrate to other labels but they get introduced to the world of fashion through us.
In terms of presence, we are operating in 120 cities in India, whereas international fast fashion brands are present in 5 cities – the metros – so basically, we have no competition with them. But, yes, Westside, Reliance Trends, Max – we all do exist in the same space.

Is pricing strategy your key USP?
One of the pillars for us is our price point. We can proudly say that we offer the most competitive pricing in the country. We are even aiming at bringing down our price points by 3-5 per cent every year.
While we will keep improving our quality, the price points will either remain the same or go down – something we have started doing in some categories. We aim to achieve all this by attaining economies of scale, better distribution efficiencies and by working with large manufacturers to bring forth the best quality.
Our business doesn't depend on large margins, but depends on volume and repeat purchase by customers and that is what we are attempting to achieve.
(With inputs from Shubhra Saini for Indiaretailing Bureau)