Spencer's Retail – an RP-Sanjiv Goenka Group Company – has tied up with Airtel Payments Bank to offer shoppers the convenience to make secure and convenient cashless payments for goods purchased across all Spencer's outlets.
The tie-up will be active across 123 Spencer's Retail outlets operational at 35 locations in India. These outlets will accept digital payments from Airtel Payments Bank customers over mobile phones.
ALSO READ: Spencer's eyes Rs 500 crore revenue by 2020 from e-commerce
Airtel has said it will not charge any processing fee from its customers or merchants partners for digital transactions. The company is even offering a 10 per cent cashback for the next 30 days, encouraging consumers to adopt cashless payments.
READ MORE: Spencer's to enter non-food space in 2017, writes Shashwat Goenka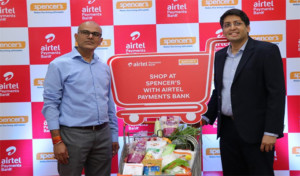 Deputy CEO, Spencer's Retail Limited, Vipin Bhandari, said, "Catering to the needs and comforts of our customers has been the key factor that has governed all our decisions over the years. We, at Spencer's are delighted to enter into a strategic tie-up with Airtel Payments Bank, and are confident that this association will deliver great value to customers and allow us to extend a more convenient purchase experience to our shoppers."
CEO – West Bengal & Odisha, Bharti Airtel, Vir Inder Nath, added, "We are delighted to partner with Spencer's Retail and offer its growing customer base the facility to digitally pay for their purchases easily through Airtel Payments Bank. With this association customers can shop with convenience and also earn attractive cashbacks at Spencer's Retail outlets across the country."
MUST READ: Spencer's Shashwat Goenka: From vision to mission
Currently, Spencer's runs 123 stores including 38 large-format stores across 35 cities in India. The all-India footfall is nearly 4 million per month.
For three consecutive years now, Spencer's has been recognized as the 'Most Admired Retailer of the Year – Hypermarket' at the India Retail Forum 2016. It has also won 'Most Admired Category Performer of the Year' for Staple food, Processed food & Savories and Tobacco & Liquor at the Coca Cola Golden Spoon Awards, 2017.