Chef Nishant Choubey of The Roseate needs no introduction. This young boy from Bokaro entered food industry in 1996 and since then there has been no looking back. He rose to fame after being chosen to attend Master Chef classes at the World Gourmet Summit in Singapore.
When he was a kid, his parents, like scores of Indian parents, had hoped that their son would become a doctor, engineer or an IAS officer. However, Choubey had been extremely sure that he would be cooking delicious food, ever since he created his first dish at just 14 years of age.
His passion to constantly explore new flavours and cuisines has helped him scale heights. He is known for using seasonal produce and fresh ingredients to add that extra kick to dishes.
In an exclusive interaction with Indiaretailing.com, Chef Choubey revealed that he believes in keeping a dish simple and not overcooking it. He also reveals his future plans plus juicy secrets of the foodservice industry.
Take us through your culinary journey so far. Which have been the major milestones and accomplishments and how have they shaped and influenced your career?
I come from a family of academicians. After completing my graduation from Bhopal Catering College, I joined Oberoi Group of Hotels, Raj Vilas Jaipur. After working here for two years, my next job was with Jumeirah Group, Dubai. I was a part of the pre-opening team for Madinat Jumeirah and served here for three years. I also worked with Olive Bar and Kitchen and was a part of  the pre-opening team for Olive Beach, Japanese restaurant Ai and LAP. Before joining The Roseate I worked at the celebrity restaurant Cibo.
Some of the major milestones of my career have been:-
– selected for Southern US training by Southern Foods Program in 2010
– won 1st prize at the Bocus d' Or competition held at Ashoka Hotel – December 2009
– participated in Master Chefs Classes at the World Gourmet Summit (Rising Stars of the Century), Singapore (April 2000 and April 2006), which was attended by the top 12 Chefs from around the Globe
– International Restaurant Exposure Tour (December 2007) – visited 20 Italian and Mediterranean restaurants in the Middle East.
– presently doing a programme on Zee Business called as The Great Chefs of India
– cooked for gourmet gurus of India which was sponsored by Food and Nightlife Magazine
– won gold medal at Aahar 2013 in the innovation category
– cooked 8 course tasting menu for BBC Good Food 2014 at Grand Vasant Kunj
– represented India at the Madrid Fusion 2015
– won the Chef of the Year 2015 by Outlook Traveler International
– awarded the Grand Avant Chef Award by Rinku Madan
– writing a book on Ayurveda linked food gastronomy in association with Roli Books
– created a historic pop up at Indus Bankok on Progressive Indian Cuisine.
– created successful cook off at the vineyard of Argentina
I like to groom myself by travelling. So, as much the achievements motivate me, travelling gives me exposure to create something new.
Tell us about the star attractions and offerings at your F&B outlets in The Roseate.
The star attractions at The Roseate are Achari Rajma ki Khichdi with Homemade Wadi, Turmeric Ice Cream, Lobster Khichdi, Wasabi Mushroom, Aromatic Duck, and mock meats.
Take us though the challenges of operating a restaurant business in India. The FSSAI has been pushing for simplification of licensing laws for long and also for lowering of the service tax component. In your view are these regulations currently deterring the growth of profitability?
Consistent supplies are a major challenge for us. With the new guidelines by FSSAI, it is a challenge for us to get imported raw materials into the country. I completely agree with the fact that these new regulations are hindering growth for restaurants such as ours.

What is the typical profitability timeline for a fine-dine restaurant?
The restaurants usually achieve a break-even after a year. The profitability can only be reviewed then. It also depends on the kind business model the establishment follows.
Some foodservice experts believe that the cafe/ casual-dining format is likely to be the most viable model for India, given their 'all-day' positioning as opposed to meal-specific fine-dine formats. What is your opinion?
These are two completely different models and target a completely different market. It all depends on the diner's choice. We at The Roseate try and give our diners a delectable dining experience, which is sure to last for a long time.
You have also collaborated with Chef Gaggan. what have been your learnings?
It was a very proud moment for us to host an exemplary fine dining event at Kiyan with Chef Gaggan. It was a team learning experience on molecular gastronomy inspired Indian cooking. What I admired about him the most was his ability to multitask and organize.
How would you articulate the role of a modern-day chef? How do you envisage the evolving role of chefs in a changing foodservice industry scenario?
Now chefs are much more interactive and vocal in their approach. They now travel the world and experience and learn new things, and interpret them in their own unique ways. They are like entrepreneurs. Most chefs today have their own stand-alone restaurants and are more successful and well known. Soon the time will come that Indian chefs will get Michelin star recognition.
What are the key trends in foodservice menu innovation? Apart from molecular gastronomy, which are the major innovations?
    
The concept of slow food is really growing. Sous Vide cooking is now being used for Indian cooking. It's a process where the meats/vegetables are vacuum packed and cooked at 63 degrees. The best result that I found was when I cooked Lamb Nihari with this process.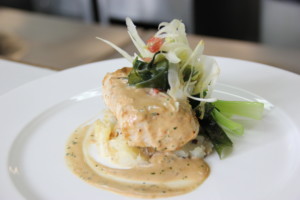 Which are the key flavours and influences on global cuisine this year? Are you adapting some of them into your menus?  
Japanese spices are the flavour of the season. Today every cuisine is using them in their own way. Ingredients such as Wasabi, Gari, Seaweed, Plum are growing in popularity. Yes, we are using these in our menus, We have Fried Calamari with Wasabi Chutney, Gari Mohito and Seaweed Salad.
What are your observations about the evolution and developments in fine dining, smart/casual dining and QSRs in India? In terms of creating recall, it is more viable to be housed in a larger hospitality property, or to be a stand-alone outlet?
Personally I feel it is more viable to be housed in a hotel/resort property. All our diners remember our dining experience not just because of the food we serve but also the ambience and the offerings we have at The Roseate.
As a chef and restaurateur, you must have to balance both creative and business aspects of your organisation. Does managing business limit a chef's creative process? How does one walk the tight rope effectively?
No, it doesn't. Because at The Roseate New Delhi we are given the complete freedom to be creative. We balance both things well. We change our menus fortnightly after rigorous research and trails. However, we manage our costs by controlling the wastage and sourcing our products locally.
What are your future plans?
I believe in short term goals. At this very moment, after successful culinary trips to Bangkok and Argentina, I am looking forward to creating an epic Indian dining experience in Japan, Kenya, UK and South Africa.