His father told him that if he didn't stop chasing tail and get a master's degree, he would end up flipping burgers for a living. Today, after a few degrees from a top UK University, Kabir Jeet Singh is a burger flipper (read: co-founder) at Burger Singh but with a twist.
The man behind introducing Indianised burgers used to work at a burger joint in London to make ends meet when he was doing an MBA there. He had access to the kitchen, so he experimented with Indian spices. In no time, he realised that the 'Indianised' burgers had became exceptionally popular with Indian students around the neighbourhood. So, when he came back to India, he thought about materialising the same idea.
In an exclusive interview with Indiaretailing.com, Kabir Jeet Singh opens up about the potential market for Indianised burgers, Burger Singh's innovative menu and a lot more.
Tell us about Burger Singh. How did you conceive the idea?
The idea was simple. Burgers account for 60 per cent of all sandwiches sold in the USA. The product is scalable. India is a growing market, Burgers constitute only 2 per cent of the Indian QSR market and is growing at a much faster rate of 25 per cent. However all the burgers sold in India were not adapted to the Indian consumer palate. We saw this as a massive opportunity and jumped in India with desi burgers
What is your estimate on the potential market for Indianised burgers?
My estimate is that the entire market will be of Indianised burgers. It is same as Chinese food in India, the Chinese food sold today is Indianised Chinese food. There are a very few restaurants out there that are selling authentic Chinese food which is now a niche market. India is a big market and everybody in the competitive landscape will have to localize the menu to survive.

How has the brand grown since its inception? Multinational giants, including Burger King, Carl's Jr and Wendy's, are already in this space, and some are exploring Indianisation of their menus. What are Burger Singh's key differentials in its menu composition?
The brand has grown from 1 outlet to 7 in the Delhi NCR region, since its inception in November 2014. We are in key location like Connaught Place, Greater Kailash, SDA and Gurgaon. The numbers and market acceptance for the product has been pronominal. We have tripled our revenue in the last 3 months since we started spending money on marketing and brand awareness. Yes, a lot of the multinational giants have entered the Indian market which is good for the segment in itself. However, unlike the big boys of global burgers market, we have a completely Indianised menu. With burgers like Bihari Gosht, Rajma Burger etc. our strategic differentiator is the speed at which we can execute and operationalize a new product from inception of a crazy idea.
What are your signature offerings and what creative trends are you following in preparation and presentation?
Our signature offerings are the Rajma Burger, Chana Burger on the veg portfolio. We have a burger called United States of Punjab (chicken), that the consumers love. We have taken the generic French Fries and have Indianised it with a chat masala and we call it – Delli 6 Fries. Our burger box is exceptionally innovative and turns into a plate after opening.
Please share details on your kitchen and logistics network.
We do not have a central kitchen. This is a lean processor based model with cold chain logistic companies looking after the transportation. We also have an inventory management and warehousing company that does the last mile delivery to all our outlets.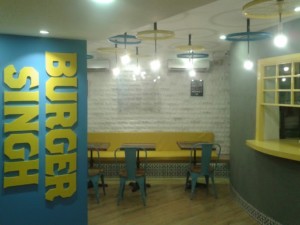 How many outlets, along with total retail space do you currently have?
We have 7 outlets fully operational at the moment and 2 more outlets with a combined area of 1700 sqft, is under fit-outs. Over the top we are coming up with larger and different concept of outlet with an area of 2112sqft, which is under management.
What is your location strategy?
We ideally like to keep the model tight on the capex and rental, reason being- high rentals is what kills a retail business in India. Since, we have a processor model we can open an outlet in 100sqft. We prefer high street location with a mixture of office and residential enchantment.
Are all outlets under the COCO model, or are some franchised?
All outlets are currently under COCO model. We are exploring possibilities of FOCO model with a few people.
If franchised, please share details on the franchisee pre-requisites (in space, location and investment) and quality control systems on food safety.
We are exploring FOCO model. The broad details are that it must be a high street location with 200 – 400 sqft. The investment is Rs 17 lakh (not inclusive of security deposit) for a cluster of 5 franchise, that will be given to 1 partner. With a revenue share of 15 to 18 per cent dependent on the location.

As an omni-channel business, how do you integrate the supply chain for brick-and-mortar and online ordering formats?
That is not a change at all. We have the tech to support all our business channels. All orders whether they are placed online, the call center or third party application get integrated into one sales interface, which transmits the order to the outlet closest to the order location. Where the outlet executes the order as a local request, this system is further integrated to our ERP to help us manage our stocks.
Rentals are a big drain for a restaurant business. Why not be just a pure-play online model?
Why not a pure play online model, the answer is simple – While India has a 40 million strong online shopper base, it is evident that only a fraction (~30%) of those are ordering food online (say thrice a year). We believe the reasons for relatively lower penetration of food ordering, compared to say online shopping include:
(1) geographical limitations, as most delivery companies service only 5-10 cities,
(2) the extent of delivery networks of several restaurants which anyway delivers food to clients, and
(3) lack of active discovery by users, leading to ordering from only known and tried-and tested restaurants.
While the trend is certainly changing in metros, we think there may still be some time before online food ordering takes off on a large scale in Tier II cities.
Yes, rentals are a drain but our aim is to keep the model tight so we can open a restaurant in 100 sqft which keep the rental low, having said that we do get almost 50 per cent of all our delivery orders online and we are aggressive in that space. We want to grow carefully and steadily. We want to build a company that survives any kind of economic and investment climate. We are not looking to build a unicorn, we are building a cockroach that will survive a nuclear holocaust.
What are your expansion plans?
We want to open 77 outlets in the next 5 years across key metros.

So far, the QSR segment appears to be the fastest growing category in Indian foodservice. What factors are driving this growth, in your opinion?
In my opinion, increasing demand for consistent and hygienic food experience coupled with increased adoption of Western lifestyles is what is driving this transition.
Please elaborate on your marketing and promotions strategy for boosting consumer awareness and scalability.
Our marketing strategy is simple and direct – the bigger multinationals are focusing on growing the overall burger market by converting people for pizza to burger for example – we are piggy backing on that and we are letting the consumer know clearly that we are selling Indianised burgers.
Please share details revenue forecast for current fiscal.
We expect to touch Rs 20 crore in revenue this year.